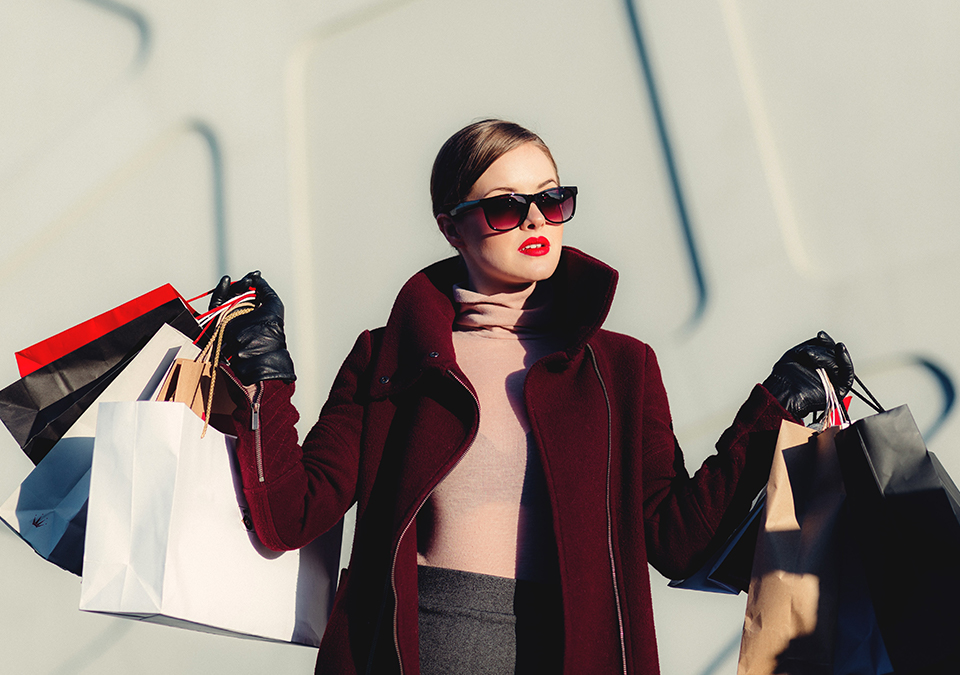 Turn prospects into clients
July 21, 2021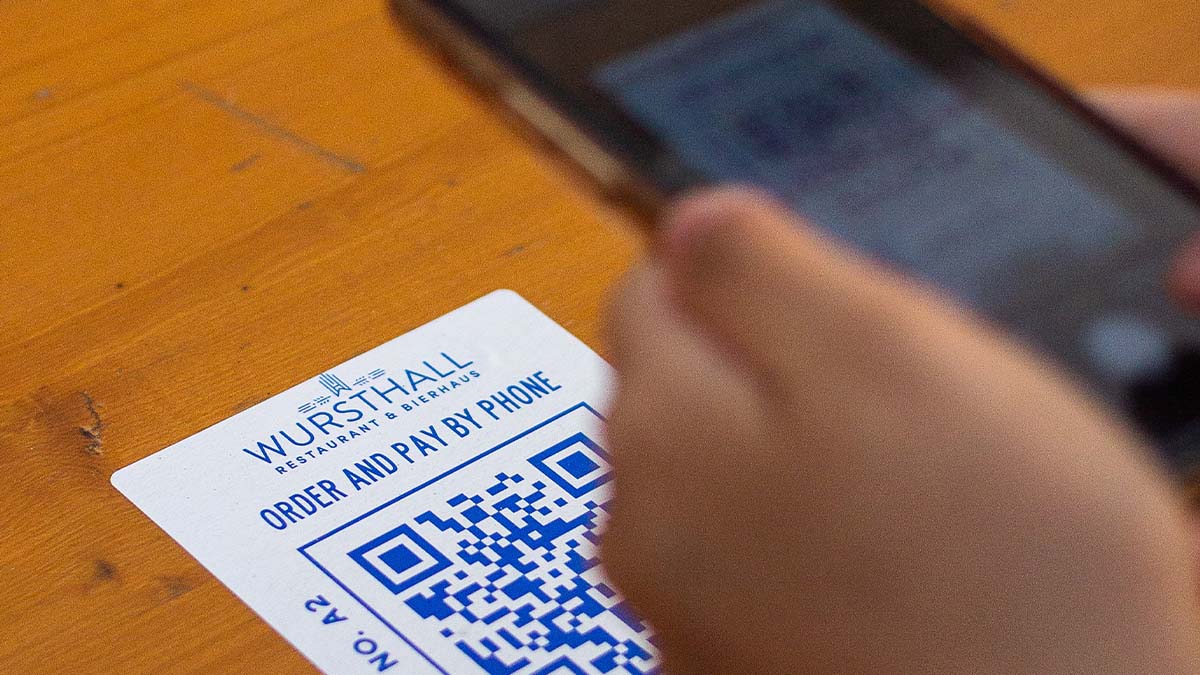 QR codes provide new marketing opportunities
January 19, 2022
In recent years' infographic marketing has been on a solid uprise
In a broader sense, infographic marketing is a form of advertising where complex information is displayed concisely to get the user to take action.
But have you ever wondered why infographic marketing is essential, and even more so, how can you measure its effectiveness? In this article, we discuss how you can increase traffic to your website and how you can effectively measure the output of your infographic marketing campaigns by including QR codes.
Masahiro Hara invented the QR code system in 1994. Its purpose was to track vehicles during the manufacturing process and was designed to allow for component scanning at high speeds. Since then, the marketing world has adopted QR codes to provide users with information on any products or services. Furthermore, QR codes have rapidly evolved to serve a wide variety of business functions. Nowadays, QR codes can even be used to make or receive payments by linking the specific QR code to a particular payment provider, such as Payfast, South Africa's leading payment gateway.
---
Infographic marketing stats to know
32% of marketing agencies believe that visuals are the most important type of content to engage users.
65% of brands make us of infographic marketing
56% of marketers use visuals in all of their marketing content
infographic marketing is the fourth most used type of content marketing
(Source: Hubspot)
---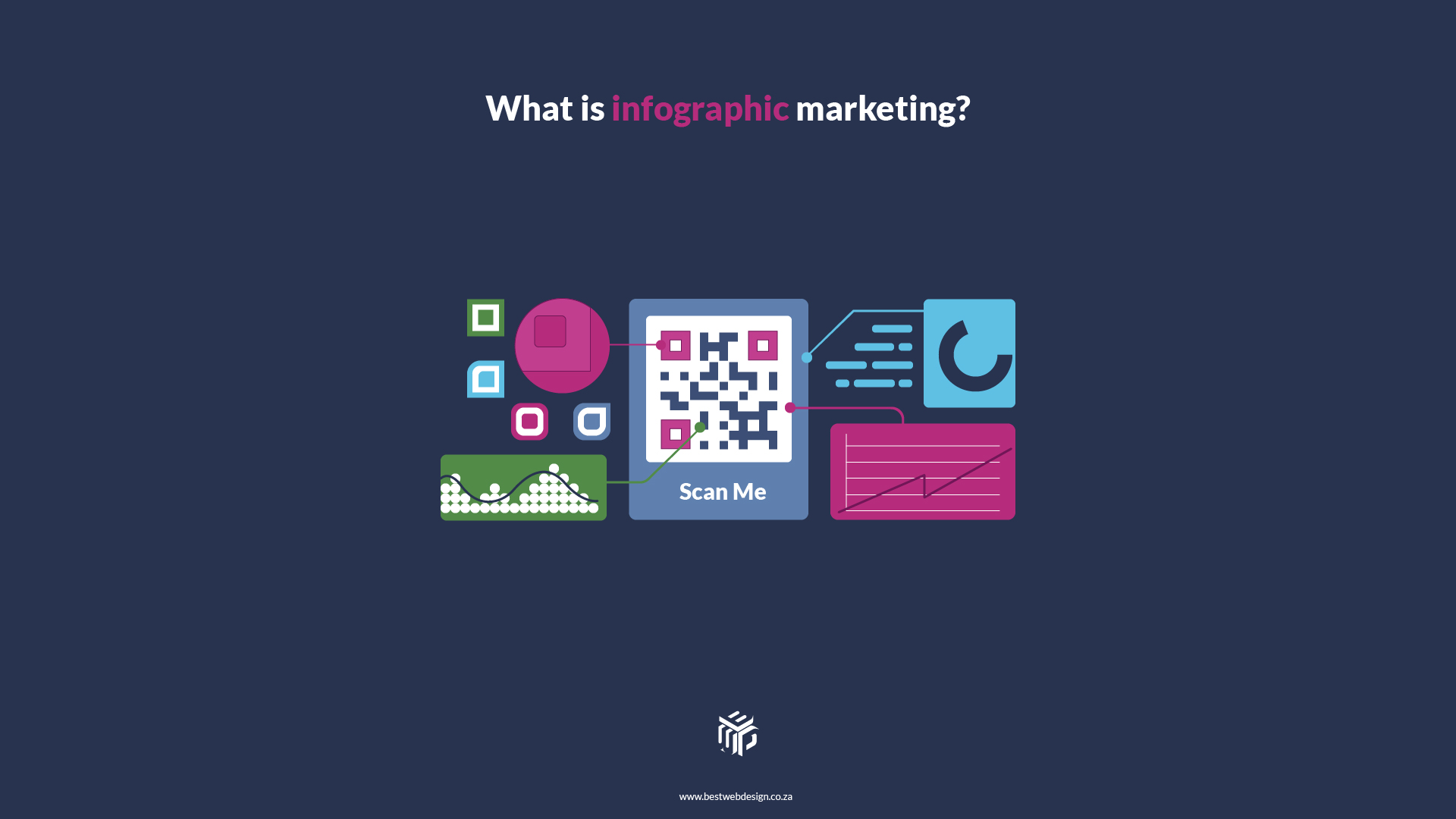 ---
The importance of infographic marketing
It involves displaying certain information in the form of images in an eye-catching manner. The visuals should be compelling, entertaining and are usually very easy to understand. The purpose of infographics marketing is to steer the right kind of traffic to your website and push leads through the conversion funnel. Studies revealed that infographics could increase website traffic by up to 12% and even more in some cases. Below we will cover some steps on how you can incorporate infographic marketing into your marketing plan.
Create visually engaging content
The first step in incorporating infographics is the infographic itself. During the developmental phase, it is best to start by thinking about the product or service you are selling and where you want to direct the user with the information you present. It's also best to map out your audience's interests so that your content can speak to them.
Re-engage them with related content
Now that you have captured your audience's attention, it's time to start thinking about how you can re-engage them to turn them from cold to converting customers. For example, you can follow up with a related blog article that tells the user more about your products or services.
Include your infographics where relevant
You can include infographics anywhere you want to provide users with a quick overview of your offering and direct them to the relevant touchpoints. Encouraging users to share your infographics using a QR code can also increase a lot of inbound traffic.
Collect accurate data
Previously there was no way marketers could track the efficiency of their infographic marketing campaigns. By including a QR, you can get data such as how many scans took place. What locations scanned the QR code the most. And last but not least, what devices were used to scan the QR code.
Reach out to your network first
The best way to tell people about your product or service is to reach out to your network and make them aware of what you are trying to create awareness for. You can share your infographic on platforms such as Facebook, Instagram or LinkedIn. Another option is to include it into your email marketing campaigns to reach a large audience at once.
---
The benefits of including QR code on Infographics
QR codes are short for quick response codes meaning, sharing information quickly and directing the user to a specific point where they can take action. Visual content marketing has one flaw: adding a link to the content does not make it clickable. Therefore, a QR code is included. With this technology, you never miss a customer and might even gain new ones. Below we will run through all the benefits of QR codes and how you can include them into your infographics for optimal conversions.
Aligns with your brand identity
When users see your infographics that don't align with your brand identity, you risk confusing them or even driving them away. At Best Web Design, we style each QR code according to your brand identity to avoid confusing users. Furthermore, we include individual brand colours using custom frames and edges. We centre your logo in the middle of the generated QR code.
Track, analyse and optimise QR codes with infographics
With the recent advances in QR technology, businesses can now track analytical data. With this data, a company can see how many scans took place over specific periods, where they come from geographically and what devices were used to scan the QR codes. This enables you to measure the infographic's effectiveness and how your business can improve them in the future.
It tells your brand's unique story
By using infographics, you establish a creative and unique form of content marketing. When you combine written content with powerful visuals, you present your information in a digestible manner. Some of the most successful infographics combine QR codes because they make them measurable and instantly deliver the correct information to the user.
You can display them digitally or on any marketing print
Another benefit of combining QR codes with your infographics is that you can use them anywhere. Whether that's on print flyers, digital flyers or infographics. QR codes can be used virtually anywhere and is a worthwhile investment for any brand.
You can constantly update and edit your QR codes
A massive benefit to dynamic QR codes is that you can always edit the code or update them as required. If you need to change a link or edit your company's logo, you will have the freedom to do so.
Integrating QR codes with infographics
Suppose you plan on using QR codes on your infographics. In that case, there are a few things to keep in mind when formulating your marketing strategy. Here they are listed below.
Create an actionable call to action
Your infographics should include a call to action, and it is considered a best practice. A call to action clarifies the purpose of the QR code & infographics. It encourages the user to make a scan, leading them to a landing page on your website. The CTA is important as it improves the success of your marketing campaigns.
Match your QR code with your design
As mentioned above, QR codes can be customised far beyond the ordinary black and white colours we see so often. When adding QR codes to your digital materials, ensure you have the correct image file type. The style elements including your brands CI, should match the design and compliment the infographic.
Make sure to use an appropriate QR code size
QR codes on infographics work effectively when the reader can scan and read them easily. The size solely depends on your marketing materials. However, a general rule of thumb is to make it more prominent when in doubt. A minimum size you can work off is 2 x 2cm. Keep in mind that the smaller it is, the more hidden it becomes to your user, ultimately impacting your campaign performance.
---
How we can help your business
In a world with better and faster technology, people are using mobile devices more than ever. It's all about accessing the needed information in a simple, quick snap and getting your business information to the customer faster.
A dynamic QR code is a niche tool that generates different QR codes in different frames and layouts. Depending on your business needs, this QR code is used to directly link to your website, social media pages, and so much more. It can be used on your business flyers to direct a potential customer to your site faster and increase conversion potential. QR Code Activation