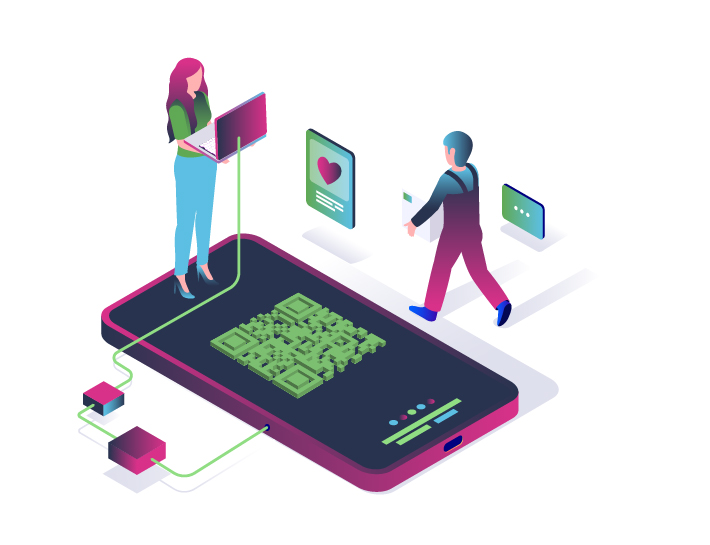 Expand your business network, and set yourself apart.
Share your contact details and business information in just one scan.
In a world with better and faster technology, people are using mobile devices more than ever. It's all about accessing the needed information in a simple, quick snap and getting your business information to the customer faster.
A dynamic QR code is a niche tool that generates different types of QR codes in different frames and layouts. Depending on your business needs, this QR code is used as a direct link to your website, social media pages, and so much more. It can be used on your business flyers to direct a potential customer to your site faster and increase conversion potential.
PDF
A PDF QR code shares PDF files with just one quick scan. The QR code generator creates and converts any PDF document into a PDF QR code file. When the QR is scanned, it will display a PDF file to the user's smartphone screen. The process makes it convenient to share and download the PDF document right away using the user's mobile device.
App store
With an app store QR code, you can link it directly to your app store without requiring an extra landing page. When a user scans the App Store QR Code, it will automatically detect the user's smartphone's operating system and immediately open the app in the right app store.
Vcard Plus
A Vcard serves as a mobile-friendly digital business card that displays all of your necessary business information and enables users to seamlessly share or save important information to their device. When the QR code is scanned, the user sees your contact number, email address, name and interactive address on Google Maps. However, you can include any supporting information because the QR is unique to your requirement.
Social Media
A social media QR Code displays all your social media platforms on one mobile-optimised landing page. You can use the QR code to promote your social media profiles on any print media. The unique QR code will direct users to your social media pages instantly, creating engagement and supplying customers with the information faster. Instead of generating one or more QR codes, a social media QR code works with one scan for all social media profiles.
Facebook Likes
A Facebook QR Code allows you to redirect users to your Facebook page so that they can like or follow your page. You can use this QR Code as a solution to drive traffic to your Facebook profile. It summarises your business with a clear and mobile-friendly page. It is perfect for connecting print materials such as flyers with your Facebook page in just a quick QR Code scan.
Video
A video QR code converts videos into a QR code which you can use to drive traffic to a specific video, and it's shown on a mobile-friendly page. This QR code is highly effective for users to watch your videos through a simple QR Code scan. You can even include your social media links or a website link to drive even more traffic.
Dynamic URL
A dynamic QR code is a QR code that can be updated and tracks data such as the number of scans, the location and the time of scans. It includes a short redirection URL encoded in it. When users scan the dynamic QR code, they are redirected to your website or a specific landing page that you wish them to see.
Image Gallery
When sharing a single image isn't enough, you can display an entire gallery of images with just one single QR code. You can add as many images as you want, such as sharing wedding photos, event launches, home listings and many more. The great thing is, you can customise your QR code with colours, descriptions, including custom content you want to share with your audience.
Event
An event QR code is a marketing solution to promote events easily with a single QR code. You can use your unique QR code on any marketing print materials to provide users with event details such as time and location. You can also link your ticket provider so that users can purchase event tickets conveniently. Event marketing has never been so easy.
MP3
As the name suggests, an MP3 QR code is a clever QR code solution that converts a sound file into a QR code that can be scanned on mobile devices. These QR codes feature customisable brand colours, and your logo can be incorporated into the middle. You can also add comprehensive information, including a title, description and website.
Coupon
A coupon QR code is a marketing solution that digitises your coupon code. A user can redeem it by scanning the QR code. You can add a customisable call to action to access any relevant information faster and more conveniently. The user can then redeem your unique coupon voucher to receive a discount on an advertised product or service.
Business page
A business QR code is a clever solution that directs a user to a specific landing page for your company. You can include a customisable call to action button that directs the user to a particular area on your website, displaying the relevant info the user is searching for. Your business page will be automatically optimised for mobile devices, providing a seamless experience and designed to align with your brand's style.
Feedback
A feedback QR code serves as a quick way for customers to provide valuable feedback on your business. In seconds your customer can scan your QR code that connects them to a feedback form on your website. You can customise this form to work with different categories such as staff reviews, product or service feedback and plenty more.
SMS
Share valuable information by utilising an SMS QR code and sending a pre-filled text message to target audience members. It allows you to write up to 160 characters and customers love connecting with your brand to provide feedback or suggestions. Adding an SMS QR code to marketing materials encourages customers to engage with your brand with just one quick scan.
Wifi
Before Wifi QR codes, a user had to select the relevant network from a list and enter the password manually. With a Wifi QR code, the user simply scans the QR code to connect to the Wifi network. Simply point your camera, scan the code and there you go. This is an excellent option for businesses, malls and other shopping centres that share their Wifi with their customers.
Rating
A rating QR code serves as a quick way for customers to review your business. In seconds your customer can scan your QR code that connects them to either your Google listing page or a customisable review page on your website. In today's online business environment, customers often look for reviews of previous customers before making a purchase. Each time a customer leaves a rating, you will be notified via email. Furthermore, your unique QR code comes with a customisable short URL that you can share across several platforms.
QR Code Activation
For a tailored solution, Best Web Design will generate a dynamic QR code. Therefore, we offer various packages for you to choose from. These QR codes are all embedded with a unique link that gets the potential customer in contact with you faster. Keep your customer informed, expand your social media and grow your business network.